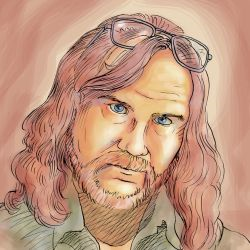 With over thirty years as an art educator in Idaho and Nevada, Bob had the opportunity to teach some of the finest artists in Southeastern
Idaho.

Beason was born in Georgia, spent his childhood in Kansas, then later moved to Idaho, graduating from Burley High School. He moved
to Pocatello, Idaho in 1971 to pursue a Fine Arts Degree from Idaho State University.

He did student teaching under long-time Pocatello artist George Wise, then moved to Wells, Nevada where he worked for several years. When Wise retired from his teaching position at Hawthorne Junior High School, he encouraged Beason to apply for the job, which brought him and his family back to Idaho.

After working at Hawthorne for 23 years, Beason accepted the job as art teacher at Pocatello High School, where he worked until he retired in 2009.

But retirement hasn't been all play for Beason. He works as an artist for hire and teaches classes at the Pocatello Art Center as well as illustrating "Under the Nine Suns."

Beason says he enjoys painting and drawing with any media but likes working with ink the most. In addition he does graphic design work and paints with watercolors, oils and acrylics.

He cites Van Gogh, Rembrandt, Escher, Chuck Close and Frank Frazetta as his favorite artists. Two of the highlights of his career were giving the keynote address at the Pocatello High School graduation of 2004 and traveling to Washington, D.C. when one of his students won the Congressional Art Award for Idaho.

He was also selected as Teacher of the Year in 2009.

Bob Beason recently opened his own comic book shop, Captain Bengal's Comic Cove, at 348 N 3rd Street in Pocatello.